COMING SOON TO NEWTON, MA | AFFORDABLE HOUSING FOR SENIORS
Golda Meir House Expansion
160 Stanton Avenue, Newton, MA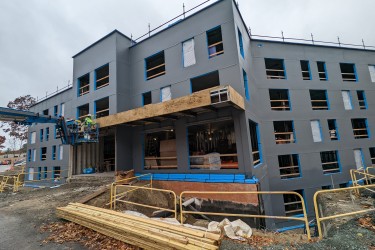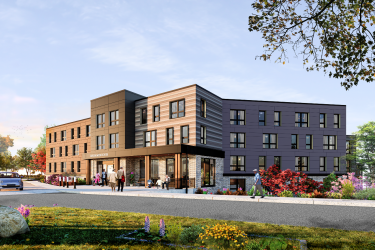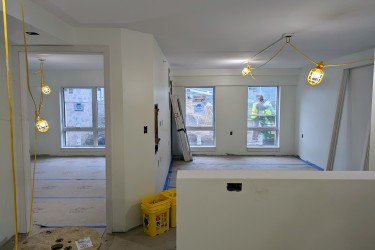 Background
Construction is underway to expand our Golda Meir House property in Newton and provide opportunities to age in community for 68 more households. To connect new residents to the existing Golda building, the Expansion consists of two additions that connect on every floor, rather than a standalone building, and a new fully-accessible entrance into Golda from an expanded upper parking lot. Together, the Expansion will create 57 one-bedroom and 11 two-bedroom apartments, for a total of 267 apartments on the consolidated Golda Meir House campus. Nine of the 68 apartments are designated for chronically homeless individuals, with supportive services provided by Hearth, Inc. in collaboration with 2Life staff.
For more information on Golda Meir House, click here.
Highlights and Special Features
Once complete the Expansion will include:
Two additions connecting the new units on every floor to the existing building
68 new apartments, which will be affordable to seniors with a range of incomes (a mix of 1 and 2 bedrooms)
Nine apartments designated for chronically homeless individuals, with supportive services provided by Hearth, Inc. in collaboration with 2Life staff
A new ADA-accessible entrance from the upper parking lot
A reconfigured parking lot with approximately 29 additional parking spaces
Improved outdoor spaces and gardens
2Life Communities will be collaborating with an area university on a graduate student "scholar in residence" program.

The Expansion will be seamlessly integrated with the management and operations of the existing Golda Meir House with access to award-winning programs and supportive services. The Golda Meir House "Village Center" not only combats isolation for our residents, but welcomes community members to take part in programming.
In addition to creating much-needed affordable housing, the Golda Expansion will create new opportunities for aging in community in Newton. UMass Boston's January 2018 report "Newton Older Adults" found that approximately 17 percent of Newton residents are age 65 or older and this is projected to increase to 24 percent by 2030. Of these community members over 65, 27.7 percent are living alone and 8.5 percent have an income below the poverty level.
Project Team
Contractor: Colantonio Inc.
Architect: PCA/ Prellwitz Chilinski Associates Inc.
Landscape Architect/Civil Engineer: Stantec
Legal: Klein Hornig LLP
Owner's Representative: WaypointKLA
If there are questions or concerns that relate to immediate/emergency site conditions, please email:
Jacob Robitaille
Colantonio Project Manager
Phone: 508-429-8666 ext. 254
Email Colantonio Project Manager
Gary Sheridan
Colantonio Project Superintendent
Phone: 774-248-0459
Email Colantonio Project Superintendent
If there are questions or concerns related to schedule or upcoming work, please call or email:
Arthur Samuels
2Life Construction Project Manager
Phone: 617-777-6857
Email 2Life Construction Project Manager
If you have any questions about the project, please call or email:
Ithzel Polanco-Cabadas
Real Estate Project Manager
Phone: 617-912-8490
Email Real Estate Project Manager ​​​​​​
Construction Updates
Construction began in August 2021 and is expected to be complete in spring of 2023. We are committed to keeping our residents and neighbors informed while we are under construction. If you have any immediate concerns about safety, noise or access, please contact the appropriate designated representative in the Project Team drop-down menu above.
Construction Update as of November 2nd, 2022
| | | |
| --- | --- | --- |
| Overall Schedule | Estimated Start | Estimated Completion |
| Utility, Site Work & Concrete Foundations | August, 2021 | Spring 2023 |
| Construction of Additions | October, 2021 | April, 2023 |
| Affirmative Marketing & Leasing | July 2022 | September, 2023 |
| Residential Lease-up/Occupancy | March 2023 | Spring 2023 |
Lower Addition: Colantonio is working on creating two new parking spaces and building exterior steps and a retaining wall along Stanton Ave. Weather permitting they will continue painting the façade which requires the use of telescoping equipment that will need to occasionally maneuver on Stanton Ave. They will also be placing a layer of gypcrete on the floor and installing spray insulation into exterior walls with truck-mounted pumps. In the meantime, Colantonio will continue installing mechanical, electrical, plumbing and sprinkler utilities, interior framing, sheetrock, and cabinets. During the next two weeks, noise will be limited to trucks delivering materials and maneuvering around the site including on Stanton Ave.


Upper Addition:
Colantonio will continue to install exterior framing, water proofing, and window panning. They will continue and work on the roof, weather permitting and will place exterior concrete stairs. Noise associated with these tasks will be limited to trucks delivering concrete, banging, sawing and the use of boom lifts.
Colantonio anticipates working Saturdays (8 AM - 4 PM) throughout the coming months. General construction work, deliveries, and accompanying noise will continue. All delivery trucks and other construction vehicles will use the construction entrance at the Upper Addition lot to U-turn and exit left down Stanton Ave.
This page is updated frequently. For more information about this project, including opportunities to support our efforts, email our Real Estate Development team.