COMING SOON TO LYNN, MA | AFFORDABLE HOUSING FOR SENIORS
The New 2Life Lynnfield
500 Lynnfield Street, Lynn, MA
2Life Communities | Lynn, MA
Coming Soon
Check Back Here for Regular Updates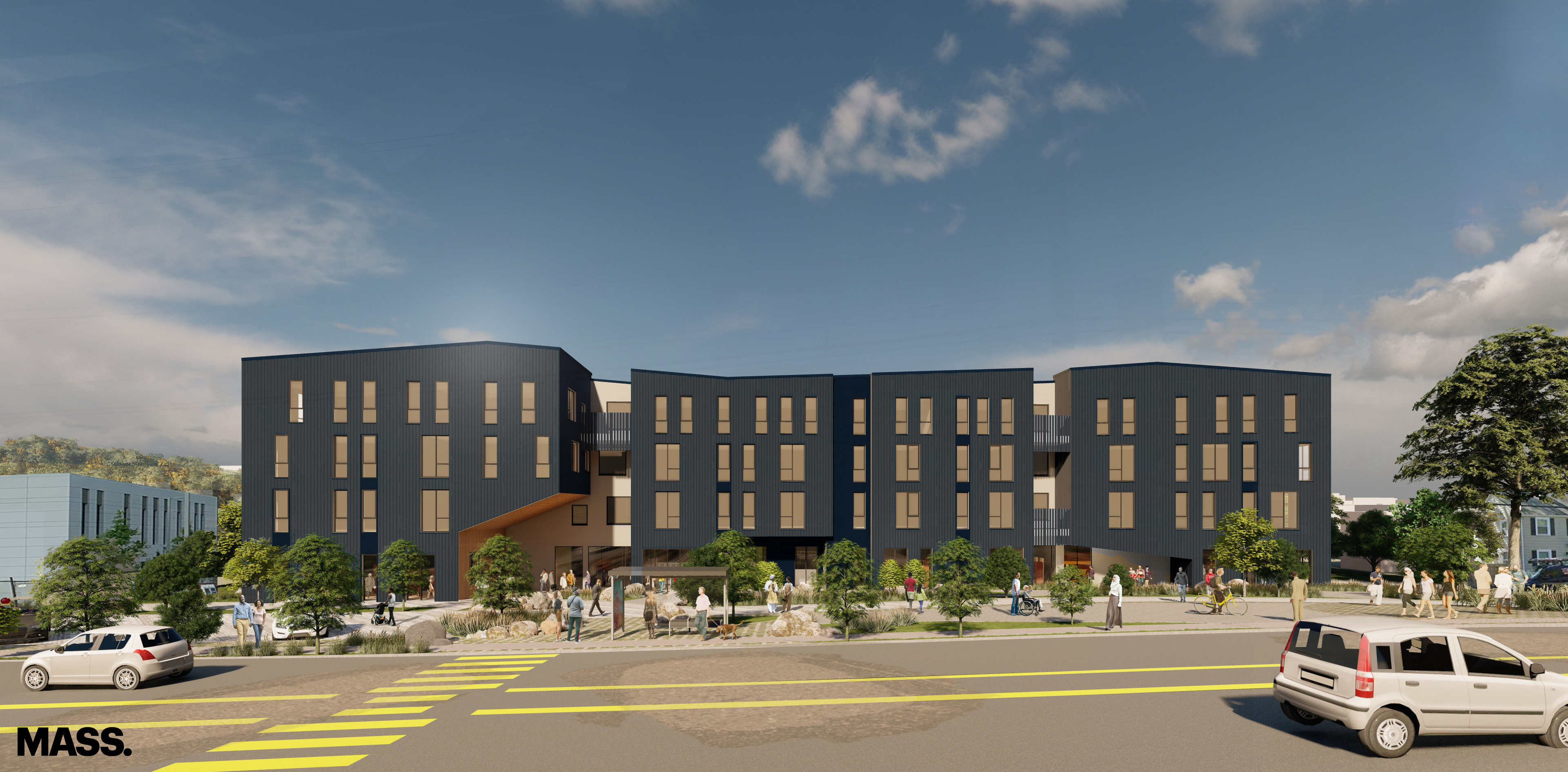 Background
2Life Communities is thrilled to present our 500 Lynnfield Street Redevelopment project, an amazing opportunity to support aging in community by building 150 new apartments of service-enriched housing affordable for seniors in Lynn, MA. This site abuts both the North Shore's Mass General Brigham Medical Center and a new Program for All Inclusive Care for the Elderly (PACE) Center that will be operated by Element Care. The 500 Lynnfield Street Redevelopment presents a remarkable opportunity to produce much-needed affordable senior housing with supportive services in Lynn and demonstrate innovative ways to integrate housing and healthcare. The project also responds to the desire of many housing and health equity advocates in Lynn that the former Union Hospital site (which this project replaces) remains in service to low-income residents in the Lynn community.
The new building is broken into three interconnected 5-story houses with common spaces that feature a welcoming residential entry, extensive program spaces for residents and a public plaza off of Lynnfield Street. Parking will be developed under the housing so that outdoor green space can be maximized. The center of the site will hold a private courtyard for residents which will open up to 40,000 sf of public green space and intergenerational play areas. A pedestrian bridge will connect the housing to the new Element Care PACE center.
Highlights and Special Features
100% affordable to households with incomes up to 60% Area Median Income ($56,400 for a one-person household and $64,440 for a two-person household), except for 2 apartments reserved for 24 hours on-call live in staff
Highly efficient, sustainable and resilient building designed to Passive House standards brining improved heath, economic and environmental benefits to our residents and addressing the important objective of reducing our carbon footprint.
The project is designed to the highest standards of universal design (especially in bathrooms and kitchens) to allow our residents to remain in their apartments regardless of their physical ability that often changes as people age.
The ground floor Village Center includes flexible spaces for fitness and wellness activities, arts and culture programs, space of communal meals and other community events -- the hallmark of all 2Life communities.
Connected by pedestrian bridge to a Program of All-Inclusive Care for the Elderly (PACE) Center – a unique healthcare program, targeted to frail low-income people ages 55 and older, with community-based health and home care services.
Parking is located under the building to allow for a maximum amount of open space to provide an opportunity for residents to enjoy time outside with a large courtyard and open space with walking paths and seating areas.
The site is bordered by the Mass General Brigham Medical Center to the east and single family residential areas to the north and west. The new Element Care PACE Center borders the site to the south. The site is located near a number of restaurants, small businesses and is proximate to Interstate 95. The site is well served by the 436 bus, which travels through Lynn from the commuter line to the North Shore Mall, with stops along the route to provide easy access to local shopping.
Project Team
Architect: MASS Design Group
Civil Engineer/Landscape Architect: Stantec
Legal: Klein Hornig LLP
General Contractor: TBD
Construction Schedule
| Overall Schedule | Estimated Start | Estimated Completion |
| --- | --- | --- |
| Building Construction | Spring 2024 | Fall 2025 |
| Affirmative Marketing & Leasing | Spring 2025 | Fall 2025 |
| Residential Lease-up/Occupancy | Fall 2025 | Spring 2026 |
INTERESTED IN LEARNING MORE ABOUT THE 500 LYNNFIELD STREET REDEVELOPMENT?
We're Excited to Hear From You!
If you would like further information about project planning and zoning for our 500 Lynnfield Street Redevelopment, please email us at realestate@2lifecommunities.org or visit the Union 2021 Website here.
Sign up below to be notified when the application period for these new apartments opens (about six months before completion). At that time, we will provide you with information about the application and lottery process.