COMING SOON TO MATTAPAN, MA | INCOME-BASED HOUSING FOR SENIORS
Treehouse at Olmsted Village
W. Main Street, Mattapan, Massachusetts
2Life Communities | Mattapan, MA
Coming Soon
Check Back Here for Regular Updates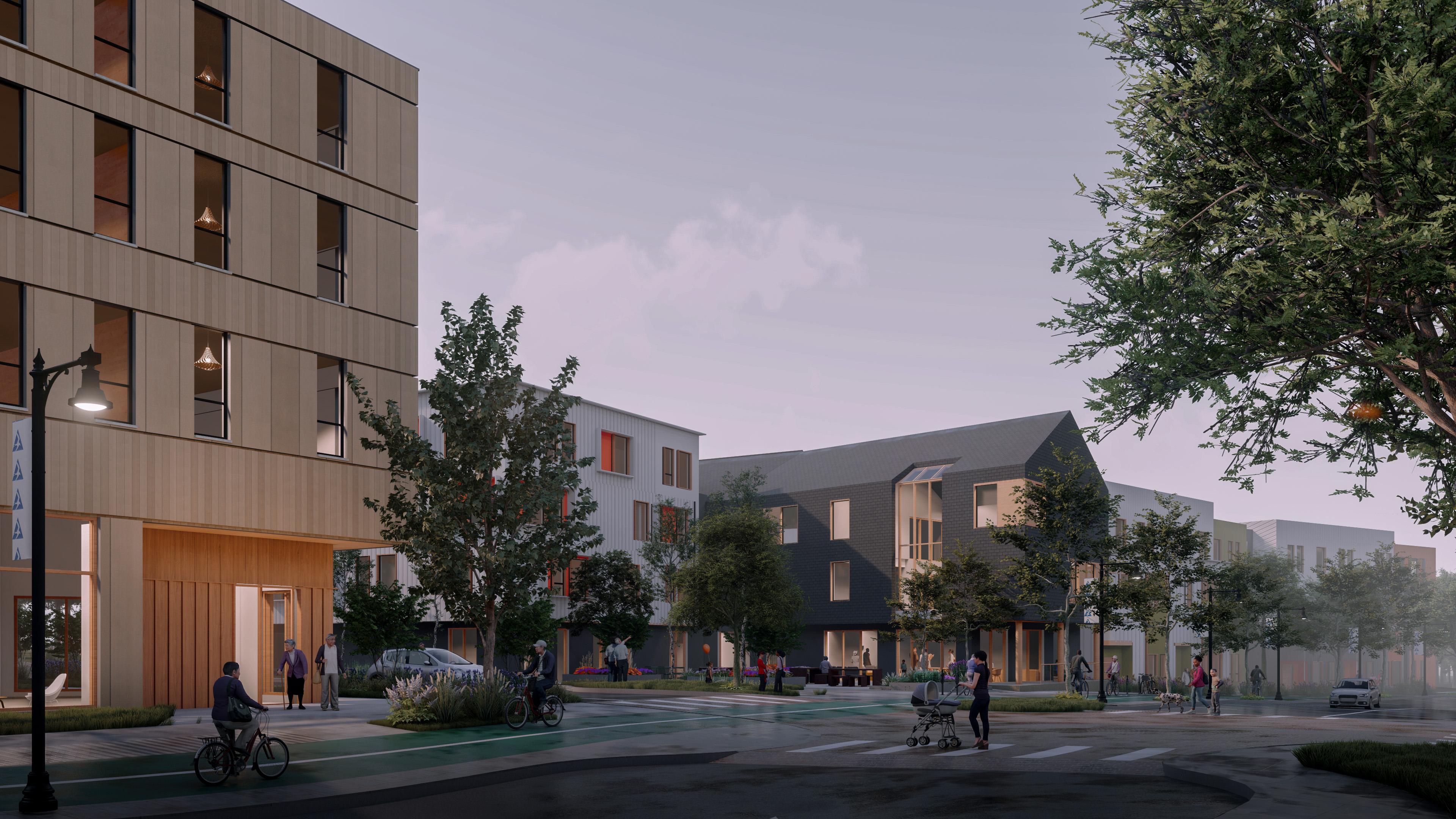 Project Partners
Lena New Boston: Lena New Boston, a partnership of Lena Park Community Development Corporation and New Boston Fund formed in 2005 to redevelop 42 acres of the former Boston State Hospital site in Dorchester and Mattapan into 500 units of mixed-income housing providing both rental and homeownership opportunities. This venture has successfully transformed the abandoned and contaminated site into a community known as Olmsted Green which in addition to housing program has created interactive open space connecting the residents to the neighboring Boston Nature Center and Franklin Park with supporting community centers at Lena Park and a Gateway Center. Hearth at Olmsted Green with its 59 units of affordable rentals to seniors and a Brooke Charter School campus (k-12) were also developed on the Olmsted Green site.

Treehouse Foundation: The intergenerational Treehouse Community is an initiative of the Treehouse Foundation, which promotes public investments in the most vulnerable children. Founded in 2002, the Treehouse Foundation inspires, implements, and supports innovative child welfare practices to ensure children who experience foster care find forever families and supportive communities, empowering them to lead fulfilling, productive lives.
Plummer Youth Promise: Plummer's mission is to set a standard of excellence that improves outcomes for your people in – or at risk of entering- state care. We deeply engage with youth, families, and the systems that impact them to develop permanent family relationships, skills, and community connections. Plummer serves individuals from birth through age 22 who are living in a variety of setting including group care, foster care, and independent living.
Background
2Life Communities is thrilled to present our Treehouse at Olmsted Village project. Treehouse at Olmsted Village is an innovative, intergenerational community that re-envisions life for children, youth and young adults who have experienced foster care, and older adults who want to live a life of connection, meaning and purpose. Based on an award-winning model created by the Treehouse Foundation, Treehouse at Olmsted Village builds a supportive community around three generations: families adopting children from foster care; older adults who act as "honorary grandparents; and young people who are at risk of "aging out" of the child welfare system without family and community connections." Treehouse at Olmsted Village will include: 12 large apartments for foster/adoptive families; 8 studio apartments for young people (ages 18-22) "aging out" of the foster care system; 40 affordable apartments for older adults (age 62+) who agree to share their time, talents, and wisdom to support the health and well-being of their younger neighbors; and attached community center spaces for social, educational, and recreational programs designed to create enduring relationships across the generations.
In December 2021, the Commonwealth of Massachusetts' Department of Capital Asset Management and Maintenance ("DCAMM") designated 2Life and Lena New Boston ("LNB") as developers of the final 10 acres of the former Boston State Hospital site following a competitive Request for Proposals. 2Life and LNB will transform the remaining 10 acres, the crowning jewel of the Boston State community into Olmsted Village. Olmsted Village will consist of passive and active open space and community programming as well as three housing communities: Brooke House - 127 affordable senior housing apartments with a child care center, health care center, and publically accessible community space; Treehouse at Olmsted Village - 60 affordable intergenerational apartments for older adults and foster youth and adoptive families; and 82 mixed-income homeownership units for families.

Highlights and Special Features
100% affordable to households at a range of incomes, including 56 apartments for households up to 60% Area Median Income, and four apartments for households up to 100% AMI.
Highly-efficient, sustainable and resilient building designed to Passive House standards, bringing improved health, economic and environmental benefits to our residents and addressing the important objective of reducing our carbon footprint.
Olmsted Village received Article 80 approval and zoning approval from the Boston Planning and Development Agency board on February 16, 2023.
Project Team
Architect: MASS Design Group
Landscape Architect: Brown, Richardson +Rowe, INC. (BRR)
Civil Engineer: Nitsch Engineering
Sustainability: New Ecology
Legal: Klein Hornig LLP
General Contractor: TBD

Construction Updates
| Overall Schedule | Estimated Start | Estimated Completion |
| --- | --- | --- |
| Building Construction | Fall 2025 | Spring 2027 |
| Affirmative Marketing & Leasing | Fall 2026 | Spring 2027 |
| Residential Lease-up/Occupancy | Spring 2027 | Summer 2027 |
This page is updated frequently. For more information about this project, including opportunities to support our efforts, email our Real Estate Development team.
Interested in living at Treehouse at Olmsted Village?
Please complete this form to receive email updates when they become available.