COMING SOON TO BRIGHTON, MA | AFFORDABLE HOUSING FOR SENIORS
The New J.J. Carroll Apartments
130 Chestnut Hill Avenue, Brighton, MA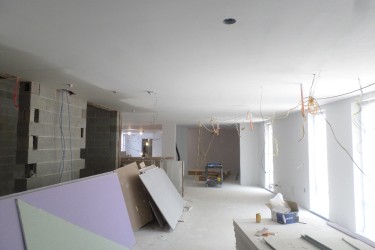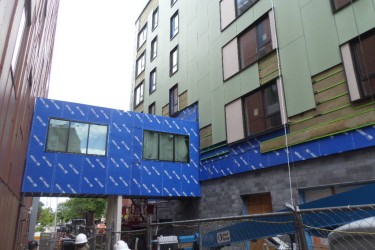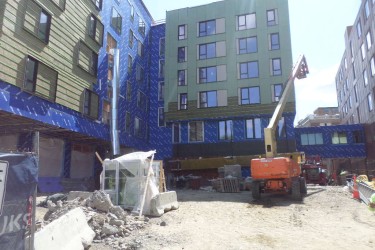 Background
Construction began in October 2021 with the demolition of the J.J. Carroll apartments, two years after the Boston Housing Authority (BHA) selected 2Life to redevelop the J.J. Carroll apartments in June 2019, following a competitive Requests for Proposals. Since the designation, 2Life has worked closely with J.J. Carroll residents and BHA on a plan to replace the existing buildings with a new building that is more comfortable, energy efficient, and accessible, including universal design and adaptability features that aim to enable residents to stay in their apartments as their physical needs change.
Highlights and Special Features
Construct 142 apartments – replacing the existing 64 apartments (all current J.J. Carroll residents were temporarily relocated during construction and will be invited to return to the redeveloped property), and creating additional new affordable homes for older adults
All apartments will be affordable to households earning up to 60% of the Area Median Income ($56,400 for a one-person household and $64,440 for a two-person household, as of 2021) with additional subsidies for many apartments to serve households at 50% AMI and lower.
Integration with 2Life's Brighton Campus including access to all its programs, services and community spaces
Universal design and adaptable features in every apartment and throughout the development
Approximately 11,000 square feet for a Program of All-Inclusive Care for the Elderly (PACE) Center — a unique healthcare program, targeted to frail low-income people ages 55 and older, with community-based health and home care services
Building and site design that is responsive to the neighborhood, including public open space and neighborhood-oriented retail near Chestnut Hill Avenue
The J.J. Carroll Redevelopment received Article 80 approval from the Boston Planning and Development Agency board on February 13, 2020. More information on the Article 80 approval is available here.
All relocation from J.J. Carroll apartments was completed by the end of 2020

Project Team
Contractor: Dellbrook
Architect: MassDesign
Landscape Architect/Civil Engineer: Stantec
Legal: Klein Hornig LLP
Owner's Representative: WaypointKLA

Construction Updates
The demolition of the former J.J. Carroll apartments has been completed and construction of the new apartments began in November and is expected to be complete by the end of 2023.
We are committed to keeping our residents and neighbors informed while we are under construction.
If you have any immediate concerns about safety, noise or access, please contact the appropriate designated representative.
If there are questions or concerns that relate to immediate/emergency site conditions, please email:
John McGinnis
Dellbrook Project Manager
Phone: 321-698-3832
Email: jmcginnis@dellbrookjks.com
If there are questions or concerns related to schedule or upcoming work, please call or email:
Lisa Kozol
Real Estate Development Specialist
978-886-9152
Email: lkozol@2lifecommunities.org
Joe O'Toole
2Life Director of Facilities
Phone: 617-912-8426
Email: asamuels@2lifecommunities.org
Denise Hamilton
Executive Director, Brighton Campus
Office: 617-912-8403
Email: dhamilton@2lifecommunities.org
Construction Updates as of June 25, 2023
| | | |
| --- | --- | --- |
| Overall Schedule | Estimated Start | Estimated Completion |
| Building Construction | November 2021 | October 2023 |
| Affirmative Marketing & Leasing | February 2023 | August 2023 |
| Landscaping & Site Finishes | July 2023 | September 2023 |
| Certificate of Occupancy | October 2023 | October 2023 |
| Residential Lease-up/Occupancy | October 2023 | December 2023 |
Project Update and Upcoming Schedule:
The building has taken its final shape. The building is weather tight and closed in.
Windows are installed and exterior siding work is well underway.
Interior finishes are in process
Site and landscaping work will begin in July
The Element Care PACE Center interior fit out work will complete this fall.
Dellbrook personnel on site daily

Kathleen O'Brien (assistant supt)
Dale Loring (supt)

For live shots of the J.J. Carroll Redevelopment site click here.
This page is updated frequently. For more information about this project, including opportunities to support our efforts, click here to learn more or email our Real Estate Development team.
If you want to learn more about J.J. Carroll House, click here.