Outstanding Employees at 2Life Communities
Our Front Row Leadership
As a mission-driven organization, every member of the 2Life team has an opportunity to make a difference for those we serve. We are particularly proud of management practices that empower every person to be a leader -- whether by providing exceptional service to residents, contributing innovative ideas, or spreading the word about 2Life's mission. In this rotating segment, we highlight people from throughout our organization who lead by example and exemplify the mission of 2Life Communities.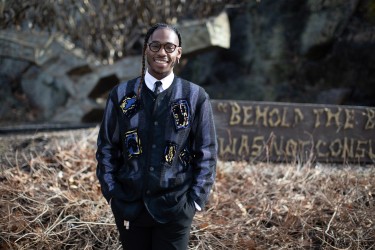 James Humphries: Ingenuity from head to toe
Noticing that some residents were wearing worn-out shoes, James took it upon himself to find a solution. His initiative ultimately led to a meeting with Boston-based New Balance, which agreed to donate dozens of pairs of shoes for residents. James isn't done—he's now working to expand his efforts to address other unmet needs, both within 2Life and beyond.

"The bond that I have with our residents means everything to me," James says, acknowledging that he serves as the "go to" person when someone needs something. "I'm so grateful to have earned their trust."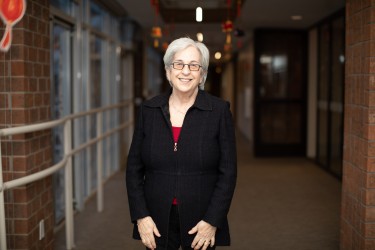 Diane Metzger: Enriching lives with creative thinking
Delivering joyous community experiences takes creativity, energy and the determination to overcome any obstacle. That describes Diane Metzger, Group Services Coordinator at the Golda Meir House, whose leadership has led to some truly life-changing experiences for residents.

Diane is a fount of innovation. She introduced the "window concerts" that brought the joy of live music to residents confined to their apartments during COVID lockdown. She also initiated outdoor painting classes, lessons on how to use Zoom, virtual health seminars—even belly dancing classes. When the annual Winter Party could not be held indoors, Diane took it outside, creating a fun celebration with fire pits and "s'mores."

"For me, it's all about building community," Diane says. "I love thinking up ideas that make a positive difference in the lives of our residents."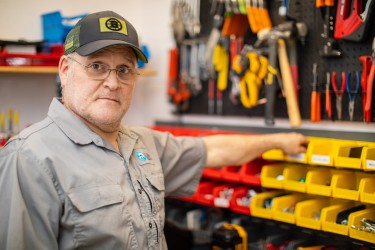 Tom Moscatelli: Self-starter with a long track record
As maintenance supervisor at Coleman House, Tom Moscatelli shows his commitment to 2Life residents through actions, rather than words. When something needs doing, Tom doesn't wait to be asked—he just does it. And he's been doing it for 41 years.

During the COVID lockdown, Tom led the way for his team to go above and beyond. He helped coordinate the special services provided to residents, including meal delivery, laundry and trash pickup, and more. He even took it upon himself to build special spacers on benches to help encourage social distancing.

"I enjoy working for our residents," Tom says with his usual understatement. "Keeping them safe and comfortable means a lot to me."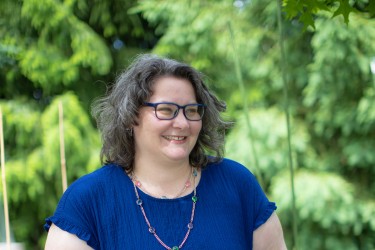 Jennifer Rich: Creating vital connections
For Jennifer Rich, life is about connecting with other people. As Director of Resident Services at Shillman House in Framingham, her work is also about linking 2Life residents with the resources they need to lead healthy, fulfilling lives.

As a licensed mental health counselor, Jennifer is a trusted source of support for residents and families facing challenges associated with aging. But her outreach extends to all Shillman House residents through regular check-ins, building relationships that encourage those who need support to feel confident asking for it. Jennifer's commitment to aging in community extends beyond 2Life. She serves on the Framingham Council on Aging and recently served on a mayoral advisory committee focusing on senior issues. But her first priority is serving the people at 2Life.

"The relationships I have developed with the people here are precious to me," Jennifer says. "I care deeply about them and they reflect that back. That's such a wonderful feeling."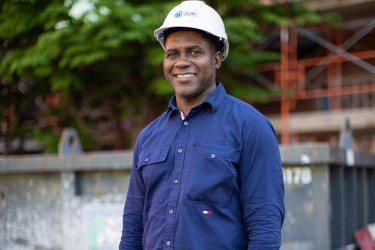 Arthur Samuels: Building joy, brick by brick
For Arthur Samuels, every construction or renovation project is an opportunity to create joy in the lives of 2Life residents. As Construction Project Manager, he oversees every detail—from the sink height and fixtures to the hallways and community spaces—to ensure they create an
environment that supports residents' comfort, safety and independence while fostering community. That commitment has made Arthur a much beloved member of the 2Life team.

Arthur's tenure at 2Life began as Maintenance Supervisor at the Shillman House, giving him a deep appreciation of residents' needs. Guided by that insight, he goes out of his way to minimize the impact of building renovations on people in the building. He's also focused on
minimizing our environmental impact. Arthur earned International Passive House Association certification, gaining knowledge and best practices that support 2Life's commitment to sustainability.

"We have a responsibility to take care of our residents," Arthur says. "Creating places that they are proud to call home, and that adapt as their needs change, brings me joy."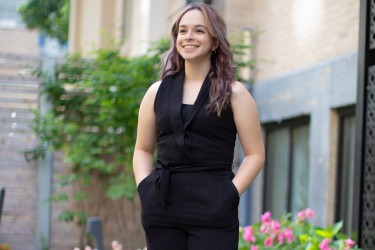 Vaneza Guzmán: Embracing the power of "yes"
When something needs doing, Vaneza Guzmán is often the one to raise her hand. As Program Coordinator for Community Engagement, she works tirelessly to create programs and events that connect residents with the broader community. But that's just the beginning. When 2Life needed an acting volunteer coordinator, it was Vaneza who stepped up to manage this crucial function. Whatever she takes on, it's always accomplished with energy and a creative touch.

Vaneza's 2Life colleagues and residents are not the only ones who recognize her qualities. She was selected to participate in the Latinx Leadership Initiative at the Boston College School of Social Work in partnership with Mass General Brigham. This innovative program is intended to bolster bilingual/bicultural behavioral health clinicians to serve Latinx populations in Boston-area community-based settings.

"Living in community is so integral to the human experience and to health, especially as we age," Vaneza says. "Being able to connect with other people is what I love most about my role at 2Life. It makes the work meaningful to me."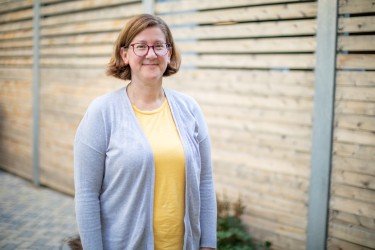 Jenny Wolfson: Making sure help is always at hand
When a resident pulls her emergency call cord in the middle of the night, having a calm, capable person respond quickly is essential. In the Brown Family House, that person is Jenny Wolfson. As one of our site representatives, Jenny is on call from 5 p.m. to 8 a.m. to assist residents in need. 2Life has live-in site representatives at each campus to ensure 24-hour, on-site emergency coverage.

When called, Jenny responds immediately, assessing the situation to determine whether emergency medical services are required or whether the resident simply needs assistance. If someone does need medical help, having a trusted, familiar face on the scene can be very calming. Since taking on the role in early 2020, Jenny has earned the trust of many at Brown House who have come to rely on her—whether they need help or just a listening ear.

Serving others is a theme in Jenny's life; she also works at a childcare center. But she finds working with older people especially fulfilling.

"The families are counting on us to take care of their loved ones. It makes me feel good to know that I and my fellow site representatives are watching out for them," Jenny says.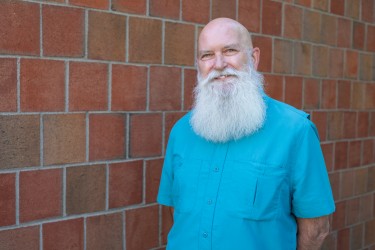 Bob Sharrett: A jolly approach to finance
Think accounting doesn't inspire passion? You haven't met Bob Sharrett. As 2Life's accounts payable coordinator, he views paying the bills as one more way to bring joy to others. Since joining 2Life four years ago, Bob has helped take this crucial financial function from a single person to a collaborative team working in unison to support our growth.

Bob and his team are always seeking ways to improve our efficiency, including implementing automated processes that shortened the time required to close our books each month. As invoices come in, he takes personal responsibility to ensure our vendors are paid promptly.

When he isn't writing checks, Bob pursues another way to spread joy—one that takes full advantage of his flowing, white beard: He is a professional Santa Claus. Each winter, Bob dons the classic red suit and brings the holiday spirit to kids of all ages and religious backgrounds. He particularly enjoys his Santa interactions with seniors, including 2Life residents.

"They were children once and they really connect with those holiday memories," Bob says. "The feeling that I get in return is wonderful."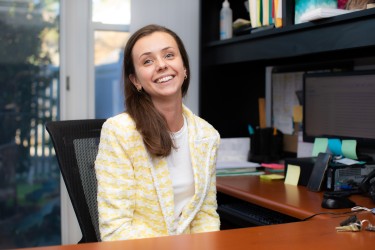 Valeriia Lendel: Easing the transition to a new home
For many 2Life residents, Valeriia Lendel is the first person they meet when they begin to think about living in one of our communities. As a leasing coordinator, she takes the lead in transitioning applicants from our waiting list to becoming part of 2Life. That requires tact and sensitivity, as she confirms the applicant's eligibility while ensuring fairness, consistency and legal compliance.

Valeriia understands that moving to a new home can be stressful. So she goes above and beyond to make sure the process is smooth. She continually looks ahead to upcoming vacancies to avoid delays. On moving day, Valeriia personally provides a tour of the apartment and common areas—and an introduction to 2Life's unique approach to aging in community.

A native of Ukraine, Valeriia is invaluable in helping incoming residents who are Russian or Ukrainian speakers. Regardless of what language is spoken, Valeriia says she loves working with the people at 2Life.

"It's important for us to be in touch with this generation. They have insights and wisdom we can learn from," Valeriia says. "I really feel that I belong in this community with these people."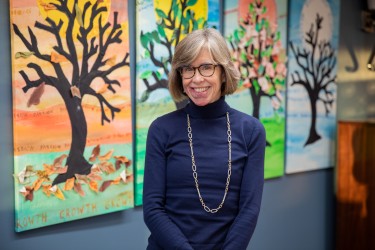 Peg Coles: Creating a sense of calm and reassurance
Living through a major building renovation isn't easy. Fortunately for the people living at Colman House, they have Peg Coles in their corner. As Resident Services Director, Peg goes out of her way to make sure residents are heard, supported and reassured.

As the Colman House renovation progresses, Peg knows to expect the unexpected. She also recognizes that unexpected changes can make some residents anxious. She stays attuned to their concerns and makes sure people feel heard and their feelings validated.

While listening is important, Peg is a doer, as well. She's a skilled problem-solver, always seeking effective ways to work with residents to help them successfully live in community. That includes connecting individuals with outside resources to help maintain their independence and health—whether they need transportation, housekeeping or a personal aide. Peg collaborates with families when their involvement is needed. And she continually works to create opportunities for residents to engage with others, an essential part of living in community.

Spend a few minutes talking to Peg and you'll experience her special gift: the ability to create a bubble of calm, even in the midst of a sometimes disruptive construction project. At the heart of Peg's approach is a deep empathy for the people at 2Life.

"They are so deserving of our kindness and support," Peg says. "They all deserve to be comfortable and secure, living lives of joy and fulfillment."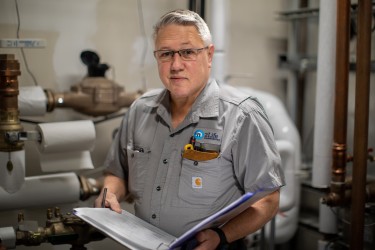 John Bjorklund: Maintaining residents' joy and making music
When something needs fixing, Maintenance Supervisor John Bjorklund is the man to call at Brown House. But his skills go beyond turning a crescent wrench and screwdriver—John also knows his way around the guitar fretboard. His musical abilities and his dedication to the residents he serves have added a dimension of joy here at 2Life.

During the early days of the pandemic, with our campuses under lockdown, John thought music might give people a respite from the stress and isolation of sheltering in place. John and two of his bandmates were the first performers in our popular "window concerts," starting with the Golda Meir House, where he was on the maintenance team at the time. From inside their apartments, residents were treated to a one-hour set of acoustic music. The trio moved from one side of the building to the next, giving everyone a "front-row seat" to the concert.

Since then, John and his band have performed at other 2Life campuses. He also helps out at other events—whether it's taking the plunge in the dunk tank at a 2Life carnival or setting up for an outdoor winter party. For John, it all comes down to enhancing the lives of others.

"Helping to make life better for the people at 2Life is fun for me. I get as much out of the experience as they do," John says. "It's wonderful that we are encouraged to think outside the box and given opportunities to do things that bring joy."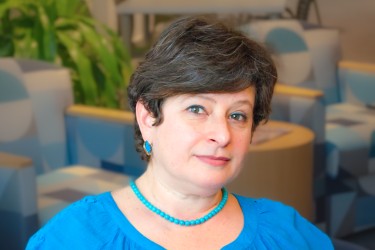 Lucy Tsitlenko: Speaking the language of compassion
For residents at our Brighton Campus, Resident Services Coordinator Lucy Tsitlenko is the go-to person when they need assistance or just a listening ear. Her compassion and tenacious problem-solving skills are particularly appreciated by the many Russian-speaking people living at 2Life. A native of Russia herself, Lucy serves as a crucial bridge across languages and cultures.

Residents have come to rely on Lucy for help with a wide range of needs—from understanding and responding to letters and notices to service provider referrals to applying for permanent resident status. As a notary public, Lucy also helps make important documents official.

When the war in Ukraine broke out last February, many Russian émigrés—including dozens of 2Life residents—stopped receiving their Russian pensions due to sanctions. Lucy swung into action, crafting letters to the Social Security Administration to explain the problem and following up to advocate for raising existing social security benefits to help close the income gap. Our Resident Services team extended this effort, reaching out to assist impacted residents across 2Life campuses. Through this effort, and with support from U.S. Representative Jake Auchincloss, the benefits were successfully increased, restoring a critical sense of financial security for the residents impacted.

"I like to see the result of what I'm doing and know that I'm making a difference for people," Lucy says. "When people come to me with a problem and then leave my office not upset anymore, that means so much to me."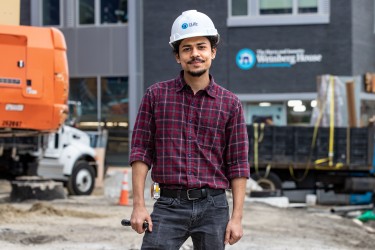 AJ Rais: Constructing a sense of community
For Ajmal "AJ" Rais, every day brings a new opportunity to create a better quality of life for others. As Construction Project Manager, he's responsible for overseeing the countless details that go into a new 2Life building—from coordinating contractors and schedules to ensuring ADA compliance. But he never loses sight of the people who will live there.

That sensitivity is second nature to AJ, having grown up in a multigenerational household in India. "I've always been around older people, so I'm empathetic to their concerns," he says.

Often, that empathy combines with AJ's talent for observation, leading to improvements. In one case, while reviewing some construction plans, he noticed a door to a staircase was not specified to have a window. Recognizing the potential for someone quickly opening the door to hit someone on the other side, AJ requested a window be added to the plan.

Helping others is something AJ practices beyond his job. An accomplished practitioner of yoga, he offers lessons to his 2Life co-workers. "I like to transfer my knowledge, helping others learn some basic exercises they can incorporate into their daily lives," he says.

Currently, AJ spends much of his time managing the new 2Life J.J. Carroll site under construction in Brighton. He pays attention to even the smallest detail—from the height of the grab bars in the showers to the amount of force required to open a door.

"I try to put myself in the residents' shoes and think about it from their perspective," AJ says. "I'm always mindful of what we're building at 2Life—we're creating a community."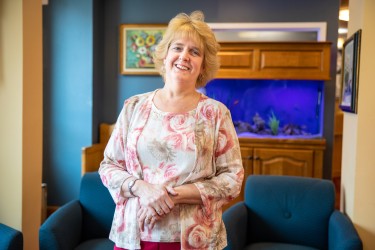 Susie Swanson: Opening new doors of discovery and fulfillment
Embracing new experiences is key to living a fulfilling life. Making those experiences happen is what drives Susie Swanson. As Group Program Director at Coleman House, she makes sure residents have activities that are engaging, stimulating and, most of all, fun.

From lectures and discussion groups to performances, creative activities and celebrations, Susie is always brainstorming new ways to help Coleman residents expand their horizons. Ideas for programs often come from the participants themselves—Susie stays in close touch with residents to learn what sparks their interest. And she coordinates with her Program Director peers across 2Life to share ideas and experiences.

2Life is a multicultural community and Susie leans into that diversity, organizing events that celebrate different cultures. For example, during Chinese New Year, Coleman residents were treated to a performance of the traditional lion dance.

"I'm so proud of our residents, who really embrace the different cultures and languages within our community," Susie says.

Susie has a knack for organizing the many details that go into a successful program, including lining up outside vendors or performers well in advance. Those skills are especially important for ambitious programs like the Wednesday Program for Learners, a multi-week enrichment program combining education, movement, creative projects, and lunch that is open to residents of other 2Life campuses and the local Newton community.

For Susie, giving 2Life residents the best possible programs is a calling. "I've had incredible moments of pure joy with people," she says. "Any time we can open new doors for people is really meaningful."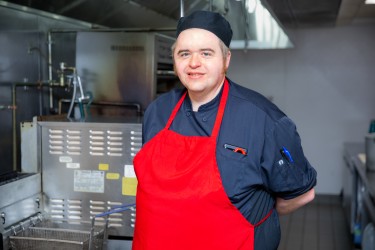 Charles Horn: Satisfying an appetite for personal connection
For Charles Horn, a lead chef in the food service group at Shillman House, his work isn't just about ensuring good nutrition—it's about feeding a sense of wellbeing.

"My goal is to make food that makes people happy. A good meal can really brighten someone's day," he explains.

Charles brings years of hospitality experience to his role 2Life. He couples that professional expertise with a personal commitment to meeting the needs and preferences of Shillman residents. In fact, Charles took the initiative to create a guide to help other kitchen staff be aware of individual dietary needs, allergies and preferences for specific residents. In addition, he took it upon himself to type up the weekly menus for residents.

He also stepped up to the plate when leadership was needed to help direct the dining facility's wait staff of teenage part-timers. With patience and gentle guidance, Charles helps the wait staff develop confidence. For many of these teens, 2Life is their first job and Charles goes out of his way to make it a positive experience for them and for the residents they serve.

While Charles has worked in restaurant and corporate food service settings, he enjoys being part of a close-knit community. If someone has a special food request, Charles is happy to accommodate it. And if an order does not come through for someone who regularly orders, he makes sure to follow up.

"I really enjoy interacting with residents," he says. "It's great to have those personal connections. We know who we're serving and that makes a big difference."