2Life Communities hosts ribbon cutting at newly expanded Golda Meir House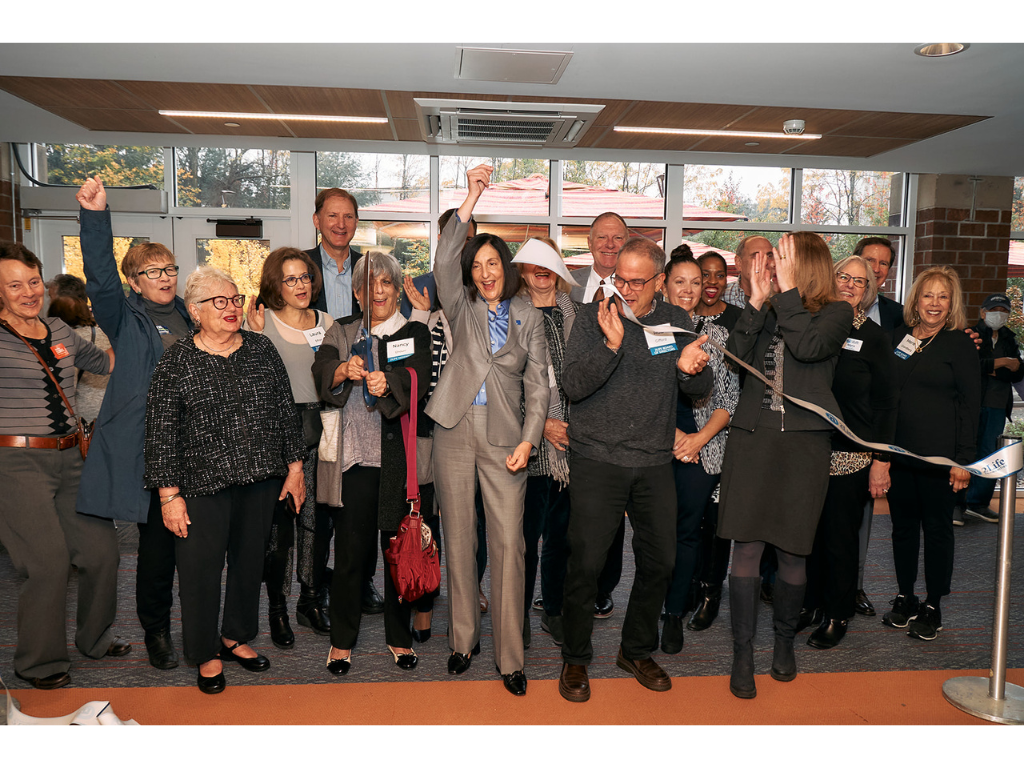 2Life Communities hosted a ribbon cutting event celebrating the expansion of its Golda Meir House in Newton, Massachusetts, on Monday, October 30.
The completed project adds 57 one-bedroom and 11 two-bedroom affordable and accessible apartments for seniors to the property's existing 199 apartments. The consolidated campus is now home to a total of 267 apartments, including nine that are designated for chronically homeless individuals, with supportive services provided by Hearth, Inc., in collaboration with 2Life.
In addition, the expansion brings a new, fully accessible entrance to the building from an expanded upper parking lot and connects to the existing building on every floor. Residents now have access to new amenity spaces as well, including a movie room, art studio, dance and fitness studio, game room, and music room.
Lizbeth Heyer, 2Life's Vice President and Acting CEO, welcomed residents, family members, staff, and visiting dignitaries to the event. After Nancy, one of Golda's residents, shared her story about benefiting from the expansion, several dignitaries expressed their appreciation for the completed project.
"I am committed to opening Newton's doors to people and families of all ages, all incomes, and from all backgrounds with affordable, diverse types of housing," said Newton Mayor Ruthanne Fuller. "Golda Meir House so beautifully meets those goals. I am proud that the City of Newton was able to provide $4.7 million in funding to support 2Life Communities and 68 additional adaptive, affordable homes."
"The housing shortage is the Bay State's biggest problem," said U.S. Rep. Jake Auchincloss in his remarks. "The expansion of the Golda Meir House is important progress. I'll continue to support efforts to provide affordable housing and supporting services for Massachusetts seniors."
"The Golda Meir House expansion project embodies the kind of housing everyone in Newton and Massachusetts deserves — affordable, accessible, safe, and welcoming," said U.S. Senator Ed Markey. "I applaud the staff, administrators, and supporters who turned this vision into a ribbon cutting for the seniors who will treasure their homes."
"Congratulations to 2Life Communities for their Golda Meir expansion in Newton, Massachusetts," said U.S. Senator Elizabeth Warren. "2Life Communities does powerfully important work to help our seniors obtain affordable housing. I'm going to keep fighting at the federal level and work with our community leaders to expand our housing supply and make it more affordable."
"The expansion of Golda Meir House represents what is possible with strong partnerships and collaboration among federal, state, and local organizations," said Juana Matias, Regional Administrator, U.S. Department of Housing and Urban Development. "We congratulate 2Life Communities and partners and are proud to continue working together toward our shared goals of providing affordable housing and supportive services as well as preventing homelessness among our aging population."
The expansion's completion is the most recent in a series of high-profile senior housing projects developed by 2Life, furthering the organization's goal of meeting the need for affordable senior housing while setting a new standard for enriching, community-based living options.
"Older adults are the fastest growing and most economically insecure population in the state," said 2Life's Heyer. "Partnerships such as those driving the Golda Meir House expansion are essential: to make the land available, provide funding, design and construct the building, power through all the complications of adding new housing to an already complicated physical, legal, and financial structure, and much more. We are so grateful for the contributions of all who brought this exciting project to conclusion."