2Life's Corporate HQ Wins AISC IDEAS² Award!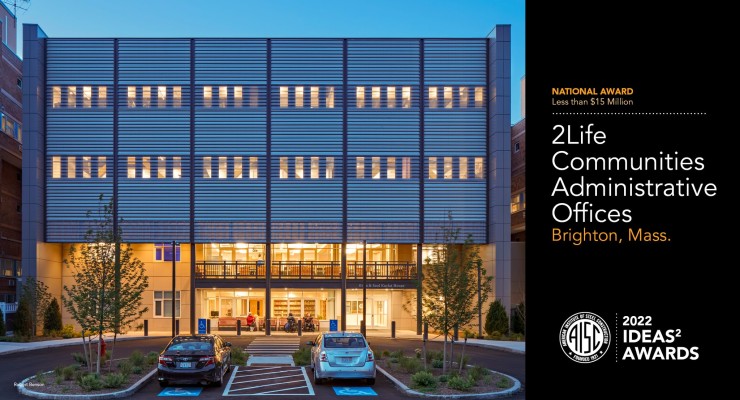 2Life is proud to announce that our corporate administrative offices in Brighton, MA just won an American Institute of Steel Construction (AISC) IDEAS² Award -- the steel industry's top design honor!
"Bringing people together is 2Life Communities' business," says the AISC website announcing our award. "And the affordable senior living community developer's CEO wanted to do the same for its employees and initiated an effort to relocate the administrative staff of 55, which was previously spread across its Brighton campus, all under one roof in a collaborative, inclusive, and equitable office culture."
Sponsored by the American Institute of Steel Construction, the Innovative Design in Engineering and Architecture with Structural Steel (IDEAS²) Award program recognizes projects that illustrate the exciting possibilities of building with structural steel. The IDEAS² awards showcase the innovative use of structural steel in:
the accomplishment of the structure's program
the expression of architectural intent
the application of innovative design approaches to the structural system
leveraging productivity-enhancing construction methods
To learn more about the incredible engineering that went into our corporate HQ, visit our award page on the American Institute of Steel Construction's website here.
To learn more about the IDEAS² Award and view the other winners in other categories, click here.