Olmsted Village: Breaking new ground, creating "a good place to live" for multiple generations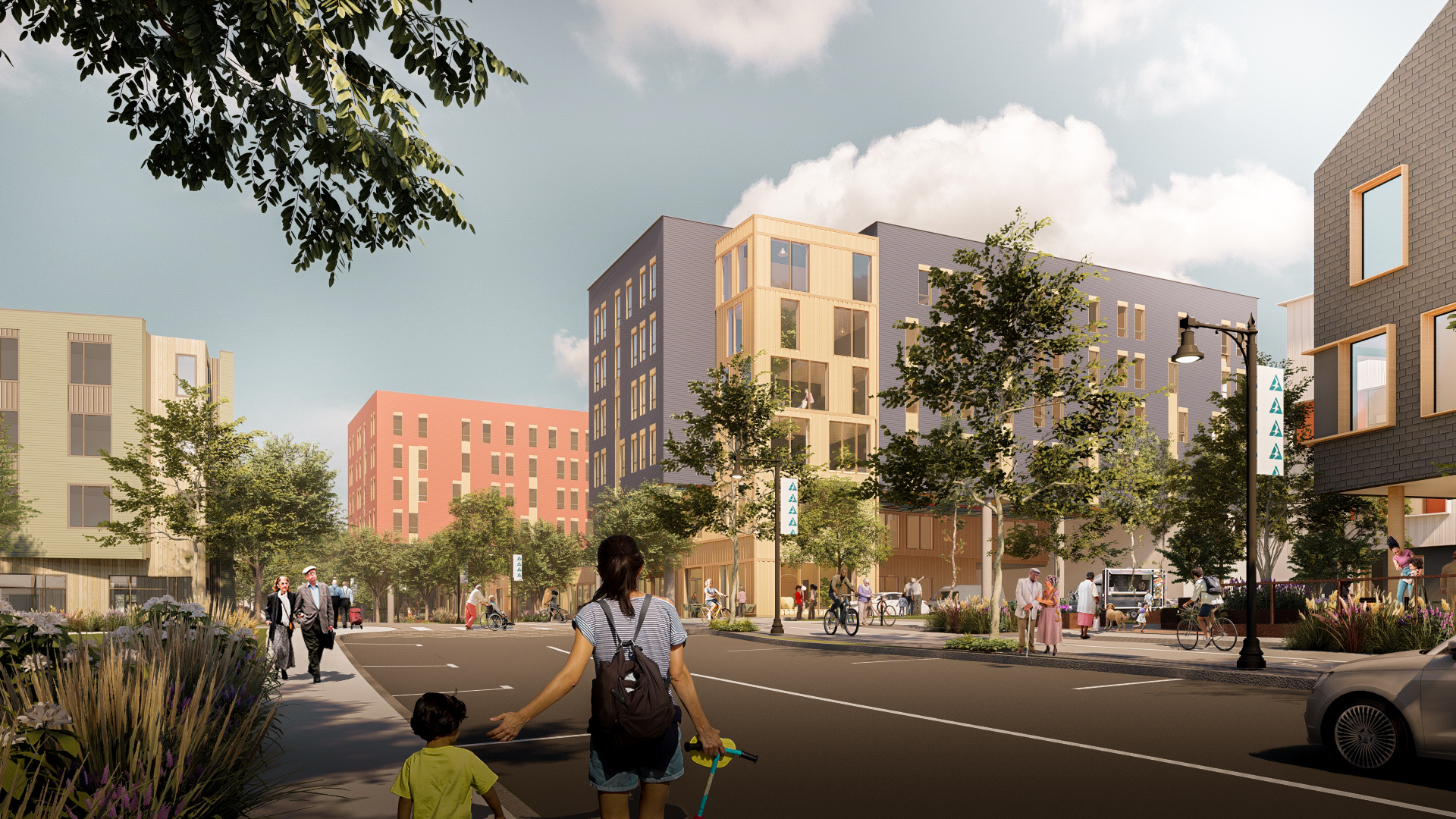 As 2Life continues to redefine what's possible for older adults and aging in community, we're expanding our reach in exciting new ways. One of these is the vision for Olmsted Village — a supportive, intergenerational neighborhood slated for development on the former Boston State Hospital site in Mattapan, Massachusetts. And it's ushering in several firsts for 2Life Communities.
A good place to live
Mattapan — as it was named by local Native Americans in the 1600s — means "a good place to be" or "a good place to sit." Annexed by the city of Boston in 1870, Mattapan today is a residential neighborhood with a diverse population primarily made up of Haitians, other Caribbean immigrants, and African Americans. It also has a significant need for affordable housing.
We hope Olmsted Village will be an exciting contributor to Mattapan as the first-ever joint venture between 2Life Communities and Lena New Boston — a partnership of New Boston Fund and Lena Park Community Development Corporation — through a Land Disposition Agreement with the Commonwealth's Department of Capital Asset Management and Maintenance (DCAMM). Designed as a neighborhood for people of all ages, Olmsted Village residents will find three distinct affordable living environments in a cohesive, supportive community. Two of these — Treehouse and Brooke House — are being developed by 2Life Communities. A third, Russell House, will offer 78 home ownership opportunities for moderate- and middle-income families with a mix of condominiums in a multi-floor building, two smaller-scale buildings, and townhomes.
Treehouse: Nurturing foster care success
Treehouse at Olmsted Village is 2Life's first foray into a fully intergenerational development and is an innovative community concept that's reimagining the foster care experience, vital aging, and affordable housing for three generations. Treehouse will offer 12 large apartment homes for foster/adoptive families, eight studio apartments for young adults ages 18 to 24 who are "aging out" of the foster care system without permanent families, and 40 affordable apartments for older adults committed to acting as "honorary grandparents" for their neighbors. An attached community center will provide space for social, educational, and recreational programs. 2Life will manage Treehouse in partnership with Treehouse Foundation and Plummer Youth Promise, two organizations that are deeply committed to restoring and strengthening the well-being of children who experience foster care.
Brooke House: Supportive community living for older adults
Brooke House will be owned and managed by 2Life and will feature 127 affordable apartments for senior adults with all the programming, support, and adaptability for which 2Life's communities are known. A vibrant village center on the ground floor will create an active streetscape and opportunities for all Olmsted Village residents to come together in a 3,400-square-foot community center with programmed recreation and educational and social events. Also on the ground floor will be a 1,000-square-foot satellite clinic for Harvard Street Neighborhood Health Center and a 4,000-square-foot community-based childcare center that will be operated by Shattuck Child Care Center.
"With Olmsted Village, 2Life is making a significant investment in an underserved community," says Lizbeth Heyer, 2Life vice president and a leader in affordable housing development, planning, policy, and advocacy. "We're not only expanding our service area, but also creating new partnerships with other innovative, like-minded community organizations to bring the 2Life model of supportive community living to a multigenerational development."
Indeed, just like the saying "It takes a village to raise a child," it takes multiple organizations working together to bring a vision like Olmsted Village to life. And while 2Life Communities and Lena New Boston are leading the charge, several program partners are adding invaluable experience, skill, and insight to the project. "I can't overstate the value of our program partners as we move forward with plans for Olmsted Village," says Heyer. "Treehouse Foundation, Harvard Street Neighborhood Health Center, Shattuck Child Care Center, Plummer Youth Promise, and Jewish Vocational Service–Boston are all playing a vital role in developing the supportive service infrastructure that will help the Olmsted Village community thrive. We're thrilled to have them on the team."
For more information about Olmsted Village, visit the website:
OlmstedVillageMattapan.com.