Coming Soon to Waltham, MA | Affordable Housing for Seniors
Leland House
21 Newton Street, Waltham, MA
2Life Communities | Waltham, MA
COMING SOON
Check Back Here for Regular Updates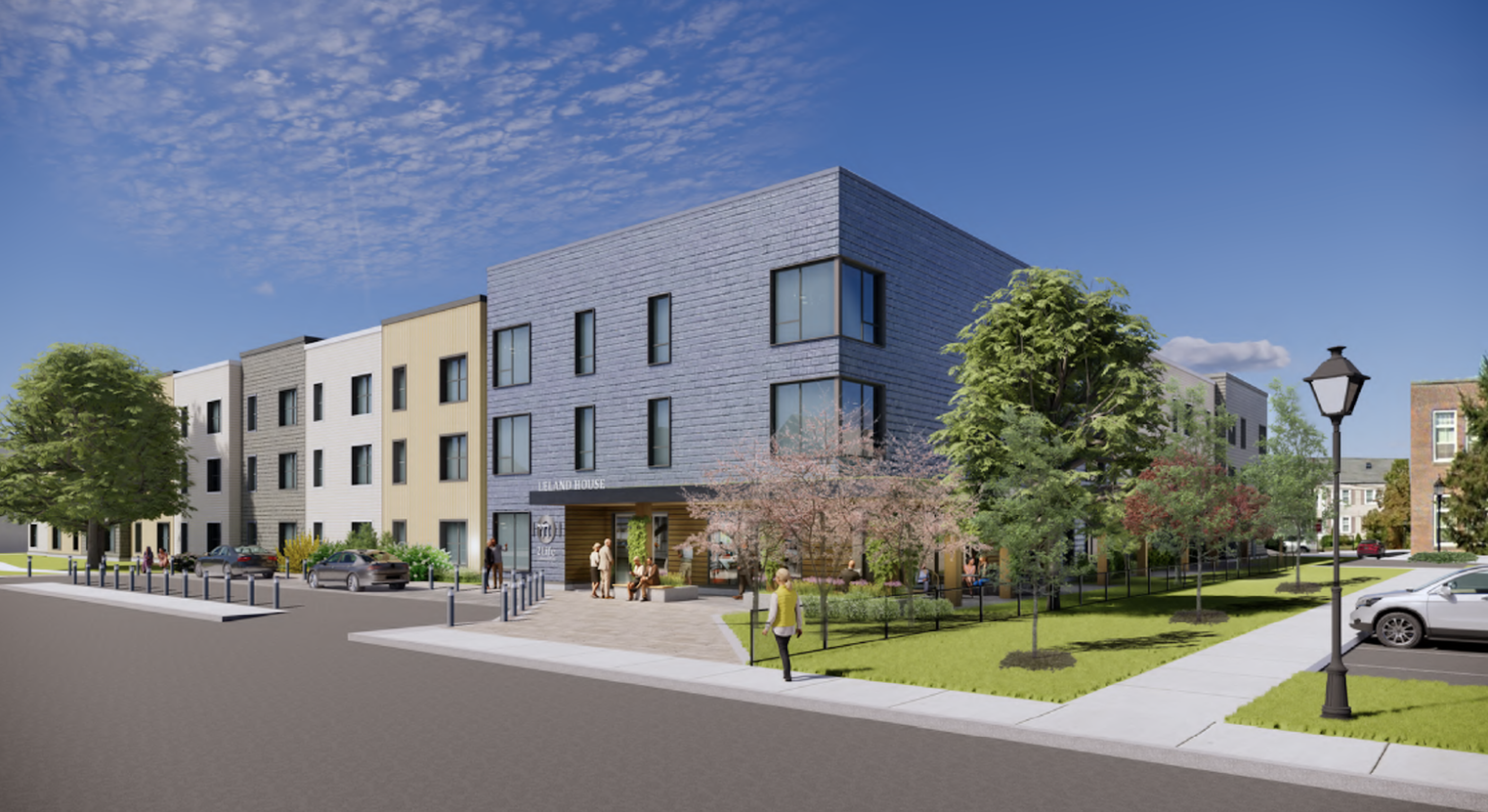 Background
2Life is preparing to start construction on our first community in Waltham, Leland House - 68 affordable apartments in a beautiful new 3-story building that pays homage to the former Leland Home that served Waltham seniors for nearly 130 years. Leland House will include a modern, thoughtfully designed Village Center serving as a hub of activity for both residents and neighbors alike. The site is ideally located to allow residents to age in community adjacent to the Waltham Senior Center, providing an amazing opportunity to coordinate programming and services, as well as just steps away from the transit rich and thriving commercial corridor along Main Street.
Highlights and Special Features
100% affordable to households with incomes up to 60% Area Median Income ($62,340 for one-person household and $71,280 for a two-person household), but for 2 apartments reserved for on-call live-in staff.
Highly-efficient, sustainable and resilient building designed to Passive House standard bringing improved health, economic and environmental benefits to our residents and addressing the important objective of reducing our carbon footprint.
The project will be designed to the highest standards of universal design (especially in bathrooms and kitchens) to allow our residents to remain at Leland House comfortably regardless of their physical ability that often changes as people age.
The ground floor Village Center includes flexible spaces for fitness and wellness activities, arts and culture programs, space for communal meals and other community events - the hallmark of all 2Life communities.
The 1.5 acre site provides an opportunity for residents to enjoy time outside with two patios, gardening beds, benches out front and in the side yard with over 30 trees across the site.
Architectural items including fireplace mantles, windows and doors will be salvaged from the existing Leland Home and incorporated into the design of the new Leland House.

Project Team
Architect: PCA/Prellwitz Chilinski Associates Inc.
Landscape Architect/Civil Engineer: Stantec
Legal: Klein Hornig LLP
General Contractor: Dellbrook | JKS
If you have any concerns related to immediate/emergency site conditions, please email:
During Construction (between August 2023- October 2024)
Nick Lepore
Dellbrook Superintendent
Email: nlepore@dellbrookjks.com
If you have any questions about the project, please call or email:
Ithzel Polanco-Cabadas
Real Estate Project Manager
Phone: 617-912-8490
Email Real Estate Project Manager ​​​​​​
Construction Updates
Construction Updates as of November 6, 2023
| | | |
| --- | --- | --- |
| Overall Schedule | Estimated Start | Estimated Completion |
| Demolish Existing Building  | July 2023 | August 2023 |
| Building Construction | Summer 2023 | Fall 2024 |
| Affirmative Marketing & Leasing | Spring 2024 | Summer 2024 |
| Residential Lease-up/Occupancy | Fall 2024 | Winter 2024 |
The demolition of The Leland Home was completed in August 2023 and construction of Leland House began and is expected to be complete in fall of 2024. We are committed to keeping our neighbors informed while we are under construction. If you have any immediate concerns about safety, noise or access, please contact the appropriate designated representative in the Project Team drop-down menu above.
Over the next two weeks the following construction activities will be taking place on site:
Installation of Fire Hydrant on Newton Street:  A fire hydrant will be installed between the Leland Home and Senior Center sites on Tuesday, November 7th from 9 AM - 1 PM and Wednesday, November 8th from 9 AM to 4 PM. As a result occupants of 12 - 28 Newton Street will not have access to running water from Wednesday at 6 PM overnight to Thursday at 7 AM. Please plan accordingly. A police detail will be on Newton Street on Tuesday-Thursday blocking traffic from driving on the southbound lane of Newton Street.Please take a detour to avoid traffic at the intersection of Newton Street and Main Street during this work. 
 on both Tuesday and Thursday.
Site work and excavation for concrete footings: You will be seeing/hearing excavators working throughout the day to excavate for concrete footings and rough grade around the site.
Concrete foundation work: Both excavation and concrete foundation pouring will result in noise from trucks and excavators moving on site, in and out of the site and their back up alarms. The trucks have been instructed to only turn left off the Leland Home site onto Newton Street.  
Underground plumbing: This will not have any noise impact.
Interested in Learning More About Leland House?
We're Excited to Hear from You!
This page is updated frequently. For more information about this project, including opportunities to support our efforts, email our Real Estate Development team.
Sign up below to be notified when the application period for these new apartments opens (about six months before completion). At that time, we will provide you with information about the application and lottery process.