AFFORDABLE APARTMENT HOMES FOR SENIOR ADULTS IN BRIGHTON, MA
Welcome to 2Life's Brighton Campus. A vibrant, semi-urban neighborhood location.
At 2Life's Brighton Campus, you'll experience the true joy of living in community — both on our campus and in the surrounding area. You'll meet neighbors from many cultures and backgrounds. You'll find the camaraderie of friends and learn from each other as you share stories and celebrations in an atmosphere of mutual respect and understanding. You'll have opportunities to participate in a wide array of programs that engage your mind, heart, and talents while you also enjoy the warmth and privacy of your own affordable apartment home. And you'll find peace of mind in knowing caring staff and support services are available to help you maintain your independence.
The Brighton Campus currently includes four residential buildings — Kurlat House, Leventhal, House, Ulin House and Weinberg House — and will soon include the new J.J. Carroll House. But no matter which building you live in, you'll have access to all of Brighton's many community spaces, services, and amenities. Plus, you'll enjoy the convenience and excitement of being located in the vibrant Brighton neighborhood with shopping, dining, parks, public transportation, and more.

Coming soon: J.J. Carroll House
In an innovative partnership with the Boston Housing Authority, 2Life Communities is redeveloping the J.J. Carroll Apartments located adjacent to our Brighton Campus. Designed with input from residents, the all-new J.J. Carroll House buildings will include 141 new subsidized apartments for adults 62+ and 13 apartments for young disabled adults that will be fully integrated with the Brighton Campus and give residents access to all Brighton programs, services, and community spaces. The new community will also feature elevator-equipped buildings; adaptable apartments with full kitchens; a brand-new, purpose-built PACE Center (Program of All-Inclusive Care for the Elderly); and a publicly accessible park with intergenerational play space. Watch this video to learn more about all the thinking and planning that's gone into this new addition to our Brighton Campus.

A place to live. A place to belong.
Discover the joy and abundance of living in community with 2Life. In this video, you'll hear from Amy Schectman, president and CEO of 2Life Communities, who talks about how 2Life is meeting the critical need for affordable senior living options while also creating vibrant, diverse, welcoming communities for older adults. You'll also hear residents talk about how living at 2Life provides opportunities to share their lives and engage with others as they learn and grow together. It's a story of purpose and fulfillment we think you'll enjoy.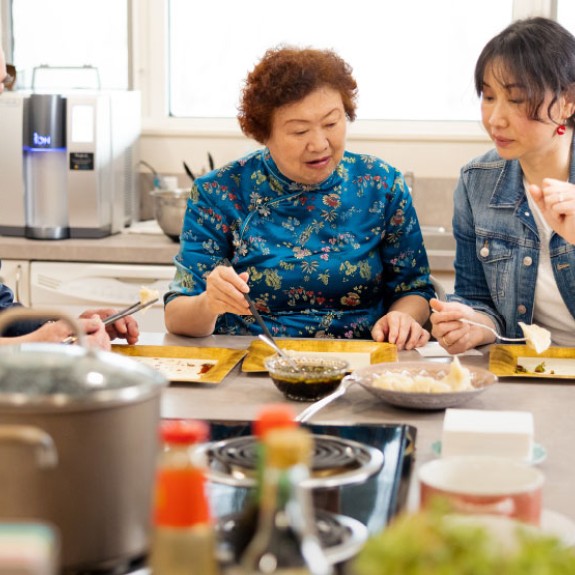 Independence with support services.
2Life's Brighton Campus is designed for senior adults age 62+, who want the freedom to live independently with the safety net of a supportive community. On-site management and an emergency response system means help is always nearby. And if you require in-home assistance, we have designated care coordinators who will assist you in finding care that can help you remain in your home as long as you choose.

Explore 2Life's Brighton Campus.